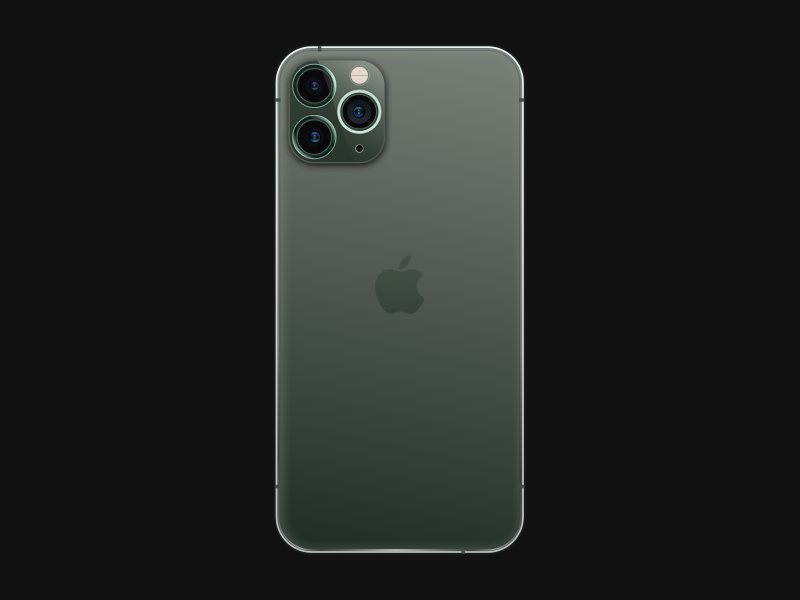 iPhone 11 Pro Max
Class-leading cameras
Stellar battery life with fast charging
Bright display
Slick iOS 13 software with consistent updates
High-quality build
Introducing the iPhone 11 Pro Max. A transformative triple-camera system that adds tons of capability without complexity. An unprecedented leap in battery life. And a mind-blowing chip that doubles down on machine learning and pushes the boundaries of what a smartphone can do. Welcome to the first iPhone powerful enough to be called Pro. The iPhone 11 Pro Max comes in 4 new textured matte glass finishes and features a 6.5-inch Super Retina XDR display2 and the toughest glass in a smartphone. Unleash its full potential with Verizon, America's most awarded network.
Fix phones is a iphone 11 Pro Max repair shop in Adelaide. Our dedicated team from Fix Phones for iPhone 11 Pro Max Repair Adelaide has provided a pedestal where you can count on us for any kind of repairs regarding your iPhones 11 Pro Max with a guarantee of the best possible result. We are always ready for assistance and in terms of service we are on par with any other repair shop if not better.

Repair iPhone 11 Pro Max Antenna
The iPhones 11 Pro Max Antenna picks up the signal from the towers to your iPhone, if you start experiencing blurry, weak or falling connections, you need to repair your iPhone 11 Pro Max Antenna. We can repair the iPhone 11 Pro Max Antenna while you finish your coffee.
Our one third of customers come for the iPhones 11 Pro Max Battery Replacement in our store. An iPhone has an internal rechargeable battery. iPhone users note that over time the battery life is not what it used to be. Premature removal of the charge can wear down the battery life, or if your iPhone 11 Pro Max has been exposed to liquids or moisture, it can corrode Battery. iPhone 11 Pro Max battery replacement does not take time, we always have new OEM iPhone batteries in stock in our store.
iPhone 11 Pro Max Back Cover Replacement
We can quickly perform an iPhones 11 Pro Max back cover replacement in 1 hour. The most common problem with the back cover on the iPhone, is that it cracks or shatters after a drop, whether or not it is made of plastic or glass, all generations of iPhones have this problem.
Though after time, knocks and drops, eventually you might get a crack or shatter the back cover, it is always best to get a protective case if you really want to make sure your iPhone is protected!
A common problem with the iPhones 11 Pro Max Camera is that the shutter won't open, it is a mechanical problem. Try restarting your iPhone and the camera still won't work, it is a mechanical problem that we can easily fix. iPhone camera replacement is often done in 1 hour with our experienced technician.
If you have an iPhone 11 Pro Max camera problem, bring in it to us and we will be sure to give you a proper diagnosis to determine whether or not a iPhone camera repair or iPhone camera replacement right for you.
Your iPhone 11 Pro Max has a 30-pin dock or a lightning connector, that is most commonly called the charging port or sync port. If you have a problem with your charging port most likely your iPhone is not charging properly – if at all. iPhone charging port repair is a common solution to iPhone sync port problems. We can repair iPhones 11 Pro Max Charging Port at affordable prices.
Did you broke your latest iPhones 11 Pro Max Screen? We can fix your broken Apple iPhone 11 Pro Max in less then an hour. iPhone 11 Pro Max have a retina display with integrated touch technology. Pixels can are now sensing touch and displaying the image at the same time, thus having one less layer, you now see more clarity than ever before.
iPhone 11 pro max screen replacement will resolve the following issues:
The iPhone has cracked or broken glass
Your iPhone isn't responding to touch
There is a yellow tint to your iPhone display
iPhone flickers or is distorted
The iPhone has lines running through the display horizontally or vertically
You can't slide to unlock your iPhone screen
Light leaks near the top corner of your iPhone screen (usually noticeable in the dark)
Your iPhone screen has dead pixels
The iPhone LCD seems to be "washed" out
iPhone has white spots, or discolouration
Protecting Your iPhone 11 Pro Max Screen
Cracked screens and broken LCDs have been the most common problem with the iPhone since it debuted in 2007. It is inevitable that are phones endure bangs and drops, we carry them with us everywhere we go, it is impossible to escape this. The best way to protect your iPhone glass is with a good quality case, such as the Otterbox Defender or the Griffin Survivor. Purchasing one of these cases or another good quality case will give you peace of mind, when you accidently drop your phone.
Repair iPhone 11 Pro Max Earpiece
One of the most common problems with the iPhones 11 Pro Max Earpiece is a blown speaker, you'll mostly hear a static noise, and the only solution is to have it replaced. Other problems we see often are that the person on the other end may sound distorted, fuzzy, or you may not be able to hear them at all. That means you will need to repair or replace your iPhone earpiece (speaker). We always have iPhone earpieces in stock, and we can repair the iPhone earpiece in 1 hour.
Repair iPhone 11 Pro Max Headphone
If you have an iPhone headphone jack problem, you will notice almost right away. Usually the sound becomes distorted, broken or it is missing sound quality it is damaged. iPhone headphone replacement, so if it is acting up or has a problem, stop by and we can fix it today.
You should always replace your housing if it has become, cracked or damaged, not only because it is more pleasing to the eye, the housing is what protects your phone from damage. If your iPhone has been dropped, and becomes cracked, moisture, dust and liquids can do harm to your phone.
The loudspeaker if often damaged by liquid or through extensive use, once it's damaged you may not be able to hear your phone ring, music, or the caller on speakerphone.
We can replace your iPhone 11 Pro Max loudspeaker in an hour, so stop by so you don't have to worry about missing your calls.
Similar to iPhones 11 Pro Max Loudspeaker Repair, if your microphone isn't working properly you'll notice straight away. If your caller cannot hear you on the phone, even though you can hear them, most likely your microphone is failing. If this is happening to you, bring in your iPhone and our technicians will have your iPhones 11 Pro Max Microphone problem fixed in 1 hour.
Repair iPhone 11 Pro Max Mute Button
The iPhone has the mute button right above the volume buttons, it is important for switching your ringer off so the phone will vibrate when a call comes in. If the mute button doesn't work, you may not be able to hear when you receive a phone call.
Repair iPhone 11 Pro Max Power Button
Your iPhones 11 Pro Max power buttom on your apple phone can become damaged over time, simply by use, or drops. You'll be able to notice once it has become damaged, it will look like its sinking into the phone, or it may be slanted, eventually if it is not repaired it will become impossible to turn on or off, so before it gets to that point, or if it is already at that point bring it in and we can replace your iPhone power button in 1 hour.
If your sim card isn't properly your iPhone 11 Pro Max will certainly let you know with alerts & notifications. Sim tray problems can happen over time, or through liquid damage.
If your sim card is properly installed and placed properly in the sim tray and you're still receiving notifications bring your phone in and we can repair or replace it for you.
Repair iPhone 11 Pro Max Volume Key
The volume buttons are found on the left side of your iPhone they control the sound output and ringer volumes for your phone. If one of these keys becomes damaged, you may not be able to adjust the volume during calls.
If you're experiencing difficulty with your volume buttons, bring your iPhone in and we can repair it for you.